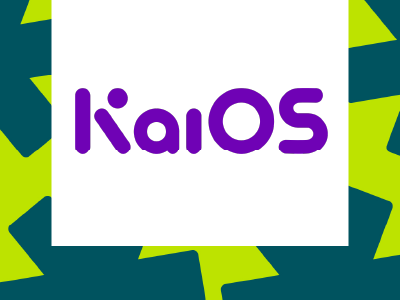 6 December 2021 – KaiOS Technologies, maker of the leading mobile operating system for smart feature phones, announced a new partnership with Ding, the largest international mobile top-up API and platform, to provide airtime requests and mobile top-up service to their users, helping them stay connected with their KaiOS-enabled devices.
Available via the KaiStore, this new service allows KaiOS users to instantly send a request for airtime top-up from their phones to anyone in their address book, using WhatsApp. Friends and family can purchase mobile top-up on their behalf, making it easier than ever to keep their phones in credit and keeping them connected to their loved ones.
The partnership gives KaiOS users access to Ding's network of over 550 mobile operators across 140+ countries, covering 95% of the population.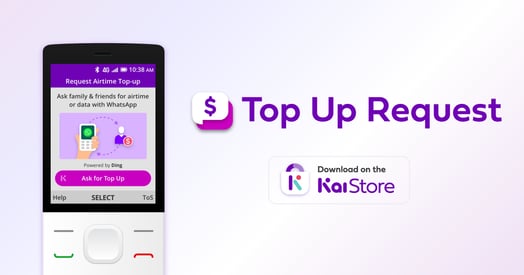 Commenting on the new partnership, Rupert Shaw, Chief Commercial Officer at Ding, said: "We are delighted to partner with KaiOS to introduce international mobile recharge to their ecosystem. Customers will now be able to engage with the Ding platform and stay connected by recharging their own devices or buying credit for other KaiOS users – all right at their fingertips."
International mobile top-up, which is the most efficient micro-value transfer option in the market, has long been seen by expatriates worldwide as a convenient add-on to cash remittance – when supporting their families back home. This new offering will undoubtedly be welcomed by those with a KaiOS handset.
Mathieu Boyer, Senior Director, Ecosystem & Partnerships of KaiOS Technologies, said: "In times of increasing global volatility, it is even more crucial than ever to get everyone connected and stay connected. We are excited to work with Ding to provide this instant and secure online payment service, allowing our users to reach out to their friends and family to ask for a top-up, or enabling them to send mobile recharges back home – this is a great gift to be able to give someone."
He added: "This partnership is a testament to our continued commitment to invest in digital solutions to deliver a safe, fast and convenient experience to our users and help bring mobile connectivity to billions of people."
Ends –
About Ding
Ding was founded to improve people's lives by helping those with less gain access to more. As the number one international mobile top-up service in the world, Ding has been keeping people connected since 2006, when it launched this first-of-a-kind service. Today, Ding's customers have successfully sent half a billion top-ups globally via the app, at Ding.com, in over 600,000 retail outlets across the globe, or via it's expanding API-partner network through it DingConnect service. Ding delivers a top-up every second, via 550+ operators, across 140+ countries – helping families and friends around the world to stay connected.
About KaiOS Technologies
KaiOS Technologies powers an ecosystem of affordable digital products and services, and exists to empower people around the world through technology. Its flagship product, KaiOS, is the leading mobile operating system for smart feature phones with more than 150 million devices shipped in over 150 countries. Kai's mission is to open up new possibilities for individuals, organizations, and societies by bringing mobile connectivity to the billions of people without internet in emerging markets, as well as providing those in established markets with an alternative to smartphones. KaiOS is based on HTML5 and other open web technologies. Devices running on the platform require limited memory, while still offering a rich user experience through access to apps like WhatsApp, Facebook, and many more.