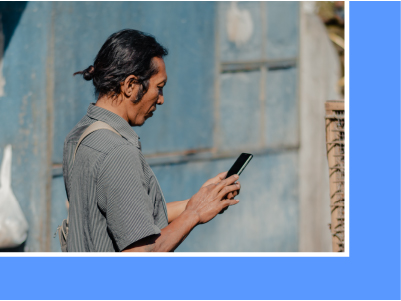 JAKARTA, Indonesia 24th May, 2021 – Ding, the world's largest mobile top-up platform, has published the findings of its inaugural Ding Global Prepaid Index (GPI) for Indonesia. The survey examined attitudes across the world to prepaid services, such as prepaid mobile phones, and prepaid utility bills. Among the findings, it was revealed that 93% of Indonesians surveyed have engaged in some facet of the prepaid market – which is the highest among the seven countries surveyed. Indonesians also have the strongest sense of responsibility with regard to supporting friends and family, compared to other countries. The survey also shows that Indonesian respondents are considered to be budget-conscious and felt optimistic about the economy.
"Ding's Global Prepaid Index has revealed the enormous market potential for prepaid products," said Mark Roden, Founder and Chief Executive of Ding. "Our research shows that x% of people engage in the prepaid economy by choice rather than out of necessity, and the prepaid market attracts people of all income levels. Prepaid provides flexibility, better transparency, and better control over our finances."
Furthermore: "Connectivity has been an integral tool in keeping families and loved ones together during the past year and it will continue to do so in 2021 and beyond. Indonesian respondents noted that the activity they are looking forward to the most when allowed is spending time with family and friends. However with uncertainty regarding international travel and the future challenges we face in the post-Covid world, the importance of mobile airtime and digital connectivity will continue to reign strong."
With 97%, or 340 million of mobile connections in Indonesia being prepaid out of a total mobile phone market of 350 million according the GSMA, there is a huge demand to keep phones in credit and keep Indonesian families connected worldwide.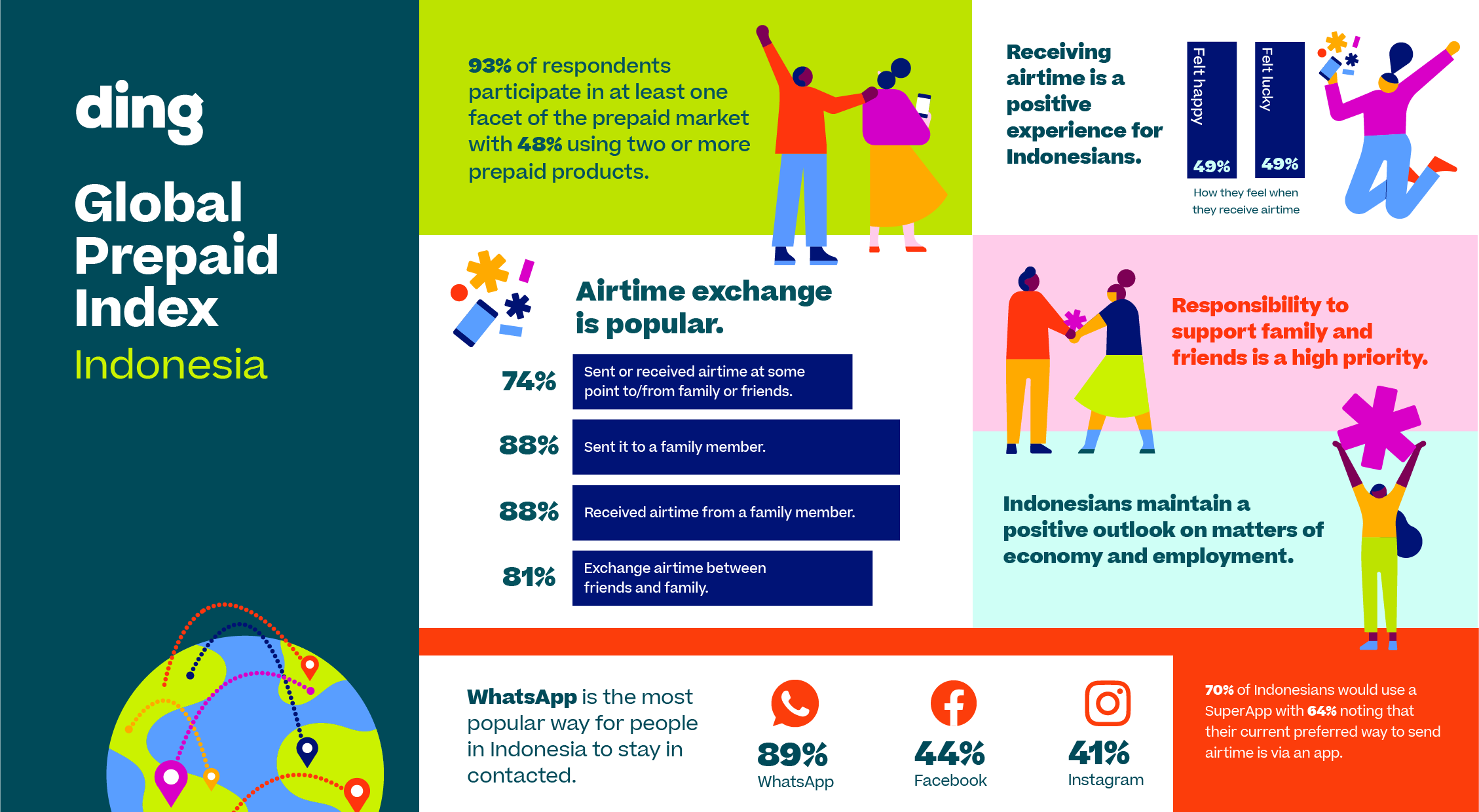 Here are some of the key findings in the report from respondents in Indonesia.
In Indonesia, 93% of respondents participate in at least one facet of the prepaid market with 48% using two or more prepaid products.
The popularity of prepaid services extends beyond mobile services, with more than half of respondents stating they use other prepaid products. These may include prepaid utility bills, gift cards, or prepaid debit cards.
Receiving airtime is a positive experience for Indonesians.
Nearly half (49%) of Indonesians said that they feel happy when they receive airtime and 49% felt lucky that they have someone who can support them in this way. A small percentage felt guilty for receiving airtime from friends or family.
Responsibility to support family and friends is a high priority.
The high number of Indonesians sending and receiving airtime feel a sense of responsibility to family. 43% reported that they feel it is their duty to do so with a further 41% stating that the recipients needed it urgently.
WhatsApp is the most popular way for people in Indonesia to stay in contact with others.
People in Indonesia love to use WhatsApp to stay in touch, with 89% indicating it was their preferred medium. This was followed by Facebook with 44%, Instagram at 41%. On top of this, over 70% of Indonesians said that they would be interested in a SuperApp with 64% noting that their current preferred way to send airtime is via an app.
Airtime exchange is popular.
Three quarters (74%) of Indonesians stated that they have sent or received airtime at some point to/from family or friends. Airtime exchange between families is extremely high with 88% noting they had sent it to a family member and 88% responding that they had received the same. Similarly, a whopping 81% exchange airtime between friends and family.
Compared to other countries, Indonesians maintain a more positive outlook on matters of economy and employment.
Consumer confidence in Indonesia is rated at 64.1 – well above the global average of 55.1. Three-quarters of respondents stated they felt optimistic about the economy, while 69% indicated positive sentiments about employment and 70% about their family's income. 4 in 5 (78%) Indonesians feel the government is doing all it can in handling the Covid crisis.
The Ding Global Prepaid Index full report can be accessed here.
***ENDS***
About the Ding Global Prepaid Index (GPI)
The Ding Global Prepaid Index (GPI) is a major bi-annual survey analyzing the prepaid market. The inaugural GPI shines a light on the growing appetite among people across the socio-economic divide to consumer goods or services on the Prepaid economy. The survey gathered insights from 7,000 respondents from across Europe, Asia, and the Americas regarding their use of prepaid products and services, views on handling of the Covid-19 pandemic, and their economic confidence. Those surveyed were evenly distributed across gender and aged over 18. 30 percent of the sample also identified as expats.