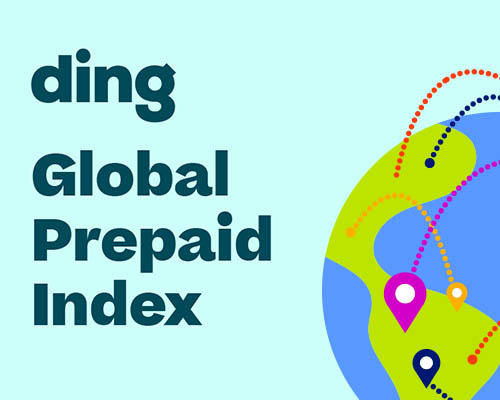 ● More than 60% of the world's population is now online.
● Consumers are averaging 4 hours of screen time per day, up 30% when compared to 2019.
● Global Prepaid Market Grows 5% with vaccinations adding to consumer confidence worldwide.
● Prepaid remains a consumer choice as 35% of consumers use it as a budget tool.
● Data packages are purchased mainly for communication needs.
● Whatsapp is the most used app at 73%, with Facebook the second most used at 63%.
February 28th 2022, Barcelona, SPAIN: Ding, the largest provider of international top-up, has released the second wave of their Ding Global Prepaid Index (GPI) on the ground at MWC. The report is based on 6,250 responses from across Europe, Africa, South America, the Middle East and Asia, including 2,170 expat workers, who traditionally feature as regular participants in the prepaid market.
Some interesting trends have emerged from this study when comparing to the first installment of the Ding GPI, released in 2021, such as the overall market growing by 5% but reducing in the previously dominant GCC market. Trends and habits brought on by government lockdowns as a result of the Covid-19 pandemic are expected to continue, with 74% of respondents stating they will continue to shop online even though retail has re-opened. Despite this growth of online shopping and other services since the pandemic, Ding's survey found that the primary reason for prepaid consumers purchasing data packages is communication. Whatsapp is by far the most used app among prepaid users with 73% usage in the prepaid market and Facebook the second most used at 63%.
Mark Roden, Chief Executive and Founder of Ding said: "The size of the prepaid market has grown in the past six months, and remains a crucial element in enabling the digital economy of emerging markets. It continues to offer new and exciting products and services that present greater opportunities for financial and digital inclusion with the potential for more partnerships in the sector."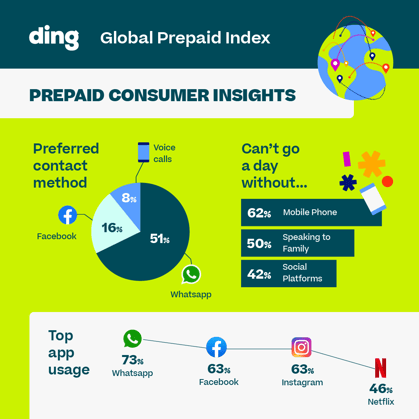 Consumer Confidence
Millions of people around the world are beginning to embrace the freedom that was previously denied to them during the pandemic through multiple different lockdowns throughout the world. On average, 59.1% of Ding consumers are reporting positively to the consumer confidence feedback.
Connectivity Unleashed
Connectivity has never been more important with more than 60% of the world's population now online. Ding was established in 2006 with a goal of improving lives by helping those with less, gain access to more, and today it has matured into a service that is crucial to the lives of millions of people.
The average consumer is spending more than four hours a day on their mobile phones, up 30% since 2019. The highest rates of consumption are in emerging markets and strong prepaid markets such as Brazil, Indonesia and Mexico. Mobiles have become such an essential aspect of consumer's daily lives, that 62% of those surveyed stated they could not go a day without their mobile phone and 50% who could not go a day without speaking to their family.
Accessing the Digital Economy
The 60% of the population that are online are largely concentrated in developed markets. This leaves a good opportunity for feature phones to be marketed in developing regions as these markets will likely choose a prepaid plan. For example, the GPI survey shows that 85% of consumers in Nigeria are on a prepaid plan rather than bill pay, and that 35% of consumers use it as a budgeting tool.
Mark Roden said: "The prepaid market is still growing, there are 300 million 2G mobile devices that are sold around the world every year. This is still a huge market that is continuing to be served by new devices. Access to the internet is critical regardless of what device you're on. Not having access to the internet with the rise of online trends like e-commerce, means consumers won't have access to things they need in order to live their lives. Smart feature phones give better customer experience, we need to think about how we give access to people using these devices, who are all on prepaid, to stay connected and participate in the digital economy."
The Ding Global Prepaid Report can be accessed here.
*** Ends ***
About the Ding Global Prepaid Index (GPI)
The Ding Global Prepaid Index (GPI) is a major bi-annual survey analyzing the prepaid market. The second GPI shines a light on the growing appetite among people across the socio-economic divide for consumer goods or services in the Prepaid economy. The survey gathered insights from 6,250 respondents from across Europe, Asia, and the Americas regarding their use of prepaid offerings, examining their attitudes, activities and outlook for the future. Countries surveyed were: UAE, Saudi Arabia, Brazil, Indonesia, Philippines, Nigeria, Mexico, India, and Germany.