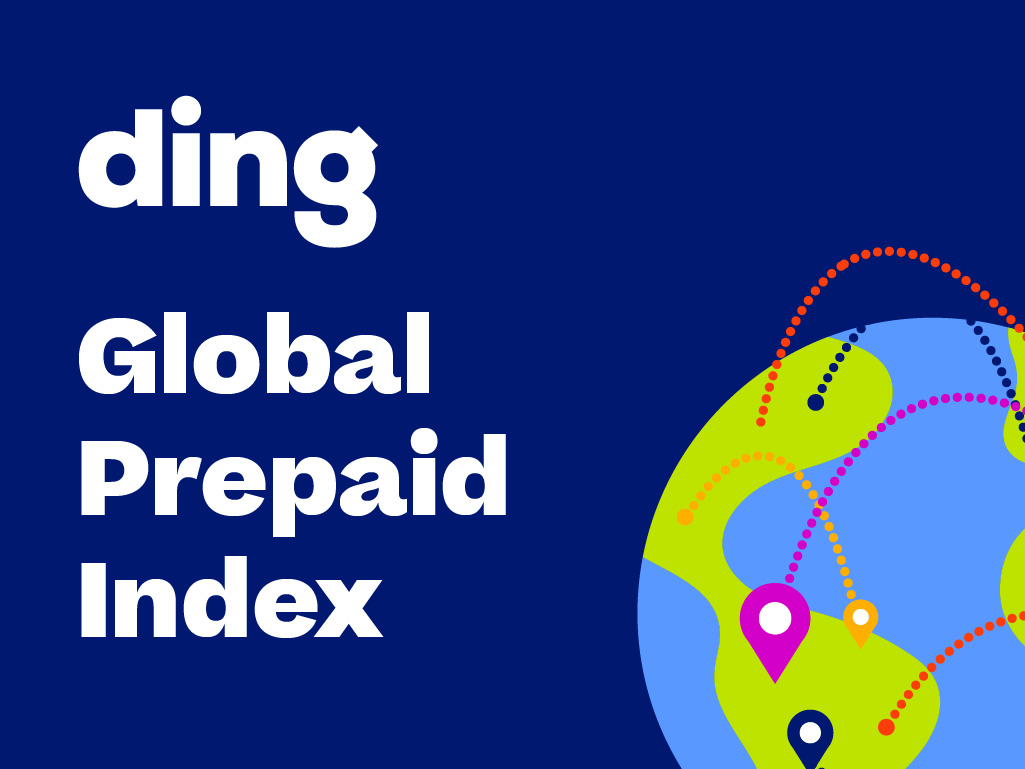 MANILA, Philippines February 7, 2022: Ding, the fastest way to send international mobile top-up, today launched the second Ding Global Prepaid Index (GPI) in which Filipinos top the global tables when it comes to prepaid products, preferring them to billpay options.
Mark Roden, CEO of Ding, said: "Filipinos are astute consumers who see prepaid products as a smart way to budget and manage their finances. The trends we're seeing in the Philippines indicate that people who have not had access to traditional banks may now choose to avoid them altogether. Lower than the average, only 30% of Filipinos surveyed are bank account holders while 19% use crypto, a high percentage of crypto adoption. This is a hugely interesting contrast."
Albert V. Villa-Real, President and CEO of PLDT Global Corporation, said: "The acceleration of digital adoption among Filipinos is something we are very optimistic about, because this paves the way for a more digitally-enabled Philippines. During this time, we know that remaining connected is important among Filipino families. We at PLDT Global Corporation want to enable our fellow kababayans – especially our Overseas Filipino Workers – to connect to their loved ones not only through internet but also through financial solutions that will allow them to send prepaid mobile load or digital vouchers for their loved ones or pay utility bills on behalf of their families."
Virtual connections are especially important to Filipino culture, where "kumustahan" and social gatherings are now held online. With the dynamic changes in priorities, Filipinos are now turning to digital services.

Climate change replaces COVID-19 as top concern
As the world sees the beginning of the end of the COVID-19 pandemic, consumers are highly conscious of the next big global challenge: climate change. In the Philippines where the population is extremely vulnerable to natural calamities and frequent extreme weather events, climate change is the main concern for 46% of respondents. This was the highest of all countries surveyed.
Mark Roden said: "As an archipelago and a country that relies heavily on income from tourism, it is no surprise that Filipinos are deeply concerned about climate change. Citizens have seen the successes and failures of their governments in handling global catastrophes during the COVID-19 pandemic. As climate-related weather events occur more frequently, it's natural that they will wonder what lessons their government has learned."
With growing concerns on climate change, digital banking is becoming a sustainable option to manage finances.
Social media and society
At a time where physical interaction is limited, digital media keeps Filipinos connected virtually. Facebook and Instagram are the most used apps, while Whatsapp has not yet penetrated deeply into the market (21%).
The Philippines tops the all-markets average for levels of misuse seen and experienced on both Facebook (68%) and TikTok (25%). This compares with just 26% on Instagram. Despite this, Filipinos place a high level of trust in social media (81%), a dominant platform for Filipinos to communicate virtually.
Finance and tech trends
For the second year running, a core theme of the report is the value Filipinos place on family. While groceries are the highest expense (33%), looking after family (29%) is placed as the second highest priority above education, rent, and utility bills.
Cash is still a dominant payment option in the Philippines where 68% of Filipinos surveyed use it as their main form of payment — higher than any other market surveyed. Prepaid products remain a preferred option as Filipinos view it as a smarter way to budget.
While Filipinos are less likely to have a bank account (30%) than the average for the global markets surveyed (52%), digital banking is slowly becoming an attractive option for Filipinos. As a country with over 2.2 million Overseas Filipino Workers (OFWs), online banks offer a more accessible and convenient option for OFWs to send money to their family back home and to other kababayans.
Filipinos also show an acute awareness of the risks of accessing financial services online, from expressing concerns about data theft and fraud to awareness of the possibility of government surveillance of digital transactions.
***ENDS***
About the Ding Global Prepaid Index (GPI)
The Ding Global Prepaid Index (GPI) is a major bi-annual survey analysing the prepaid market. The second GPI shines a light on the growing appetite among people across the socio-economic divide for consumer goods or services in the Prepaid economy. The survey gathered insights from 6,250 respondents from across Europe, Asia, and the Americas regarding their use of prepaid offerings, examining their attitudes, activities and outlook for the future.